Last Friday I waited in line for almost 45 minutes. Many of the Mac faithful can claim the same as last Friday, June 29, was the dawning of the era of the iPhone. Apple users have been clamoring for an apple branded pda for a long long time so it's no surprise that the iPhone is gathering so much attention. Not only is it a stunningly beautiful, powerful, and easy-to-use pda, the iPhone is also a fantastic iPod and phone.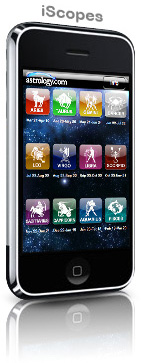 However, I wasn't waiting to buy the iPhone, I just wanted to see it. You see, I've been working on the graphics for an iPhone app called iScopes. It's a joint effort between Astrology.com and Day Late and Dollar Short Software. iScopes lets you find your horoscope right on your iPhone, with a beautiful and fun interface. After a week of guessing at the actual dimensions of the display area, trying different interface ideas, and imagining using the app on this amazing device, I just had to see it in person. And I wasn't disappointed. Thanks to the expert programming of Don McConnell at Day Late and Dollar Short Software and the amazing work that Apple did, everything worked even better than expected. And my graphics didn't look half bad either 😉 . But holding the device in your hand makes is simply addictive. I can see why 500,000 people bought it last weekend. Apple sold 700,000 iPhone made $200m+ Profit (update 7/6/07).
iScopes is just one of the many cool apps for the iPhone. You can find many more at iPhone Application List (best for browser) or iPhone Apps Manager (best for iPhone). You can find apps to help you find cheap gas, to organize your Del.icio.us bookmarks, find movie times, play games, and lots of other stuff too.
Designing iPhone apps has it's own set of issues and considerations. Firstly, The iPhone's screen resolution is 160ppi, over double that of most computer monitors so, whatever you see on your computer screen is over twice as big as it will be on the iPhone. Second, you navigate with your fingers on the iPhone, not a mouse so, all the links and buttons need to be designed with that in mind. Third, when you rotate the iPhone the app need to switch from portrait (vertically oriented display) to landscape (horizontally oriented display) so, you need to design both views. All in all it is not drastically different but the differences are key.
Now that the iPhone has been released it will be easier to design for it. This is an area I hope to be doing a lot of work in. The possibilities of iPhone apps is limited only by the imagination and I expect we will see some amazing things on the iPhone in the coming months.
Update 7/6/07 – Apple has posted development guidelines for iPhone web apps.